Okay, first things first.....this is a Dolphin 'fish' not 'mammal' so calm down. 'Mahi Mahi' is a marketing term that originated in Hawaii and is now used because people don't know the difference and don't want think they're eating Flipper.
I called up my fish guy and asked for a whole filet still frozen....we don't have 'true' fresh around here so this is the freshest I'm gonna get. I get there to pick up my fish and the damn filet is roughly 3 feet long and almost 5lbs. The dolphin was on sale for $11.99lb, when the price came up for the whole thing my girlfriend looked at me like I was nuts and I felt the same inside. So I asked good ole' Dillon to cut me off 2 - 1lb pieces....he was spot on, on the first one weighing in at 1.02lbs, Kudos to him!! Next one weighed in at .88lbs, still pretty good eye from the meat man in my book!
Get home, light the grill turn the deck lights on, light a stogey, open a beer and get the fish ready. Kept it very simple, Sea salt, black pepper and EVOO on the fish and eggplant.
Everything over direct heat, no lid the whole time.
Nice night time pic of the yard and grill.
Dinner is ready!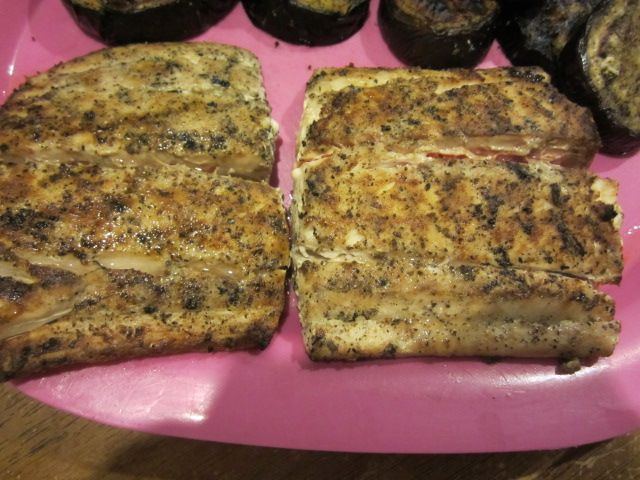 Served with semi-homemade Peach & Pineapple Salsa, avocados and roasted pine nut olive oil couscous.