Mumbo Wings
---
This sauce is typically sold in Chinese restaraunts in Washington, DC and some various Soul Food restaraunts. First time I had it was back in 1990 when I worked for the Corps of Engineers in DC, which was a couple blocks from China Town.
Here's a knock off recipe I found online, it's pretty good and I tweaked it some too.

Mumbo Sauce
1 cup ketchup
1 cup sugar
1 tablespoon Hungarian paprika
3 tablespoons hot sauce (I used 2 TBS Crystal and 1 TBS Sriracha)
3 tablespoons water
4 tablespoons white vinegar
I also added granulated garlic, onion powder and a dash of Accent.
Combine in sauce pan and slowly bring to a boil, stirring frequently.
Cut the wings up and fry until golden.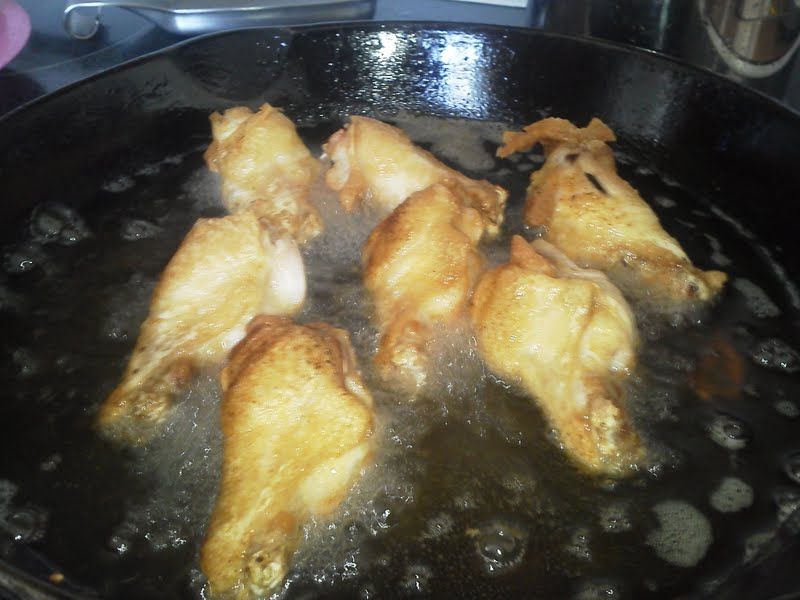 Ready for the game.
Cathryn and I did damage to the plate but there were about 10 left at dinner time. So I put some waffles from breakfast back into the waffle iron and reheated and sauced the wings. They were even better reheated and sauced. Added some maple syrup to the waffles and dinner was done and delicious!