It rained like cat's and dog's yesterday, so I wanted to do something simple on the Smokey Joe while I stayed dry in the garage and visited the beer fridge frequently
Small pork loin seasoned with Zatarains Creole Seasoning, smoked on the Smokey Joe with an apple chunk.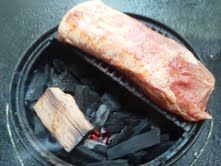 Flipped after about an hour.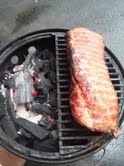 Got full on beer's and switched to Absolute on the rocks.
Little sliced onion and SBR's and it was time to eat along with some waffle fries.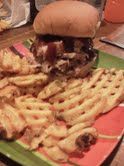 I swear, I've done a bunch of these over the past year and like them more than pulled pork AND they're healthier but just as tasty!