I've been working my butt off all weekend doing yard work etc.......so it's time to wind down with a good cigar, cold beer and some burgers with the family.
I've been on a health kick for the past three months and give myself one 'splurge day' which usually falls on Saturday. Even though I splurge I still try to eat healthy, so me and my 8 year old have Bison burgers which are much much lower in fat but equally as good as beef. The rest of the family had chuck burgers and hot dogs.
Started off with a red onion marinated in Italian Dressing.
Along with asparagus and baby zuchini's also marinated in Italian Dressing.
Wolfe Rub Bold.
Seasoned the Bison with Worcestershire sauce and
Wolfe Rub Bold
as well.
Chuck burgers first.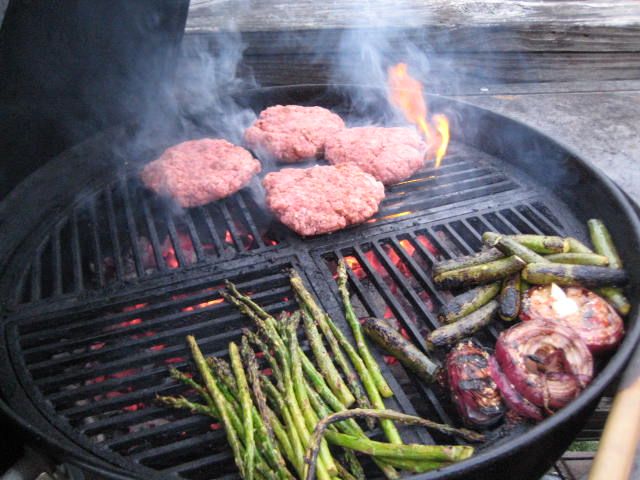 Then the Bison burgers and hot dogs...for some reason my wife split them and asked me to burn them. So........
The dogs curled right up huh??
The burgers are ready for cheeeeeeese!
One whole slice of Swiss cheese per burger folded four times. Why? Cause it keeps all of the cheese on the burger, not melting off the burger! Great idea huh? LOL
Top on the grill for about 3 minutes and the cheese is nicely melted and the burgers are ready to enjoy!
Garret's burger.......the boy can make a burger can't he? Not sure if you can see, but he's got bacon, tomato, pickles, grilled onion and mustard and ketchup on that bad boy!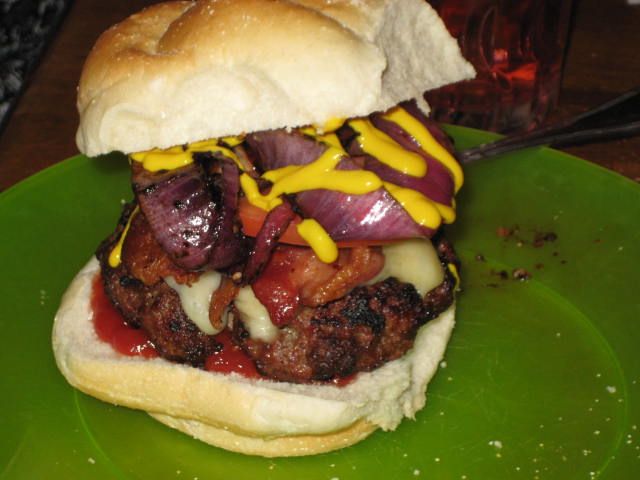 Here's my Bison burger.
After a nice squeeze I was able to take a bite! Yumbo!