Simple but good......would have loved to had collard greens cooked in ham hocks, but the stores were out! What a shame.
I started off with about an 8lb 'Ready Cook' Smithfield ham.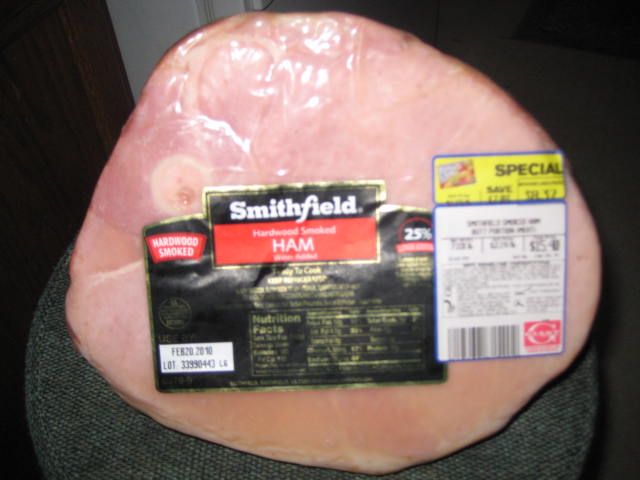 Scored and studded with cloves.

Notice in this pic I removed the excess fat and left about a quarter inch of fat.

This would have normally been cooked on the smoker, but it was cold, windy and most of all I just didn't feel like cleaning and cooking it on the smoker! LOL So it went into a 250º oven. I basted with the natural juices every 20 minutes or so.
While the ham was in the oven I prepared the glaze.
Ham Glaze
2 Cups - Orange Marmalade
1/2 cup - Brown Sugar
1/2 cup - Honey
2 - TBS Butter
1 TBS - Cinnamon
Combine all of the ingredients until everything is incorporated and simmer for five minutes.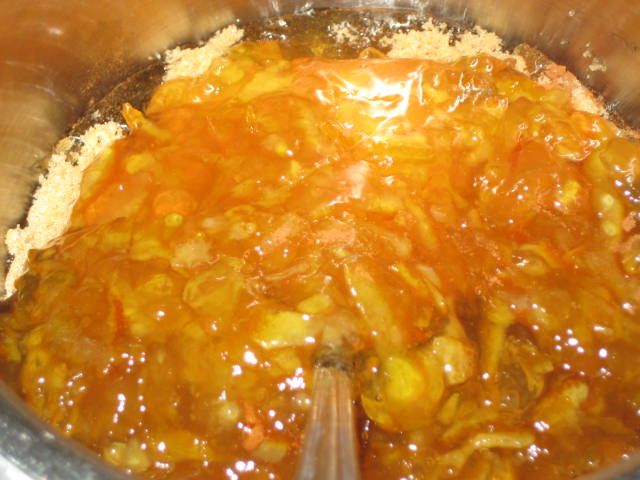 Then add the butter and turn the heat to low until you're ready to start glazing.

While the ham was cooking I also prepared traditional black eyed peas.
Simmered some leftover smoked St. Louis style rib trimmings, onion, garlic, salt and pepper in a couple cups of water.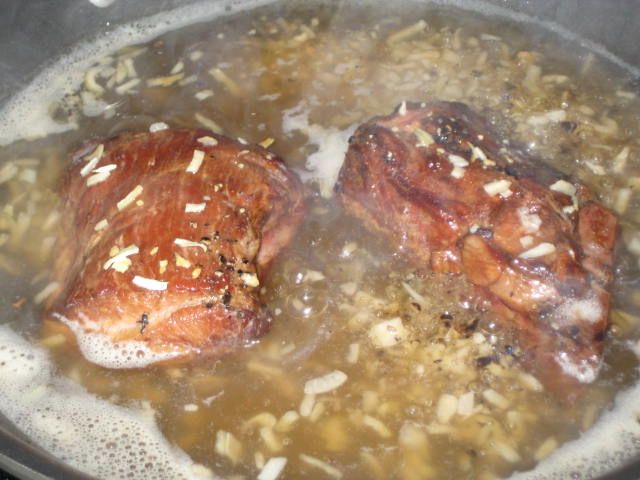 Then added in 2 cups of pre-soaked black eyed peas and some bell pepper. Let this simmer for a couple hours until the peas and meat were tender.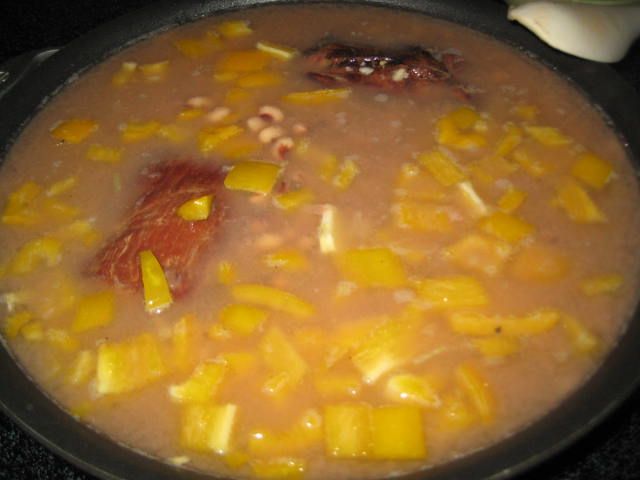 Also wanted to do a little sauerkraut for good luck and cause my father always loved it during the Holidays. I added a 1 TBS of butter and 1 whole Granny Smith apple to sweeten it up just a bit for my daughter who really likes it this way.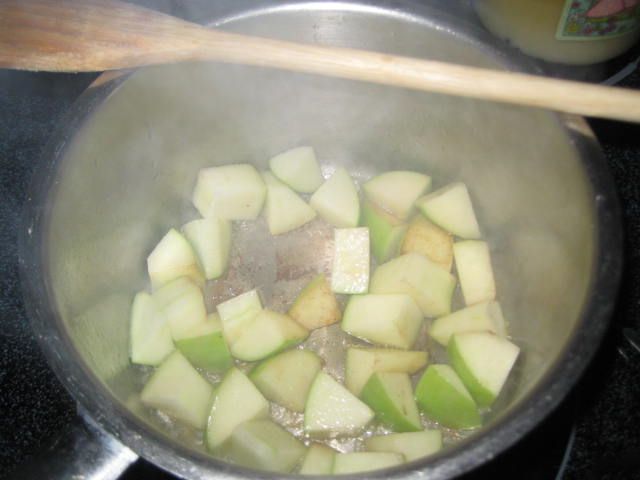 Then added a big 27oz can of kraut and a little pepper and let simmer until dinner time.

Couple hours later the black eyed peas are coming along nicely and the meat is tendering up.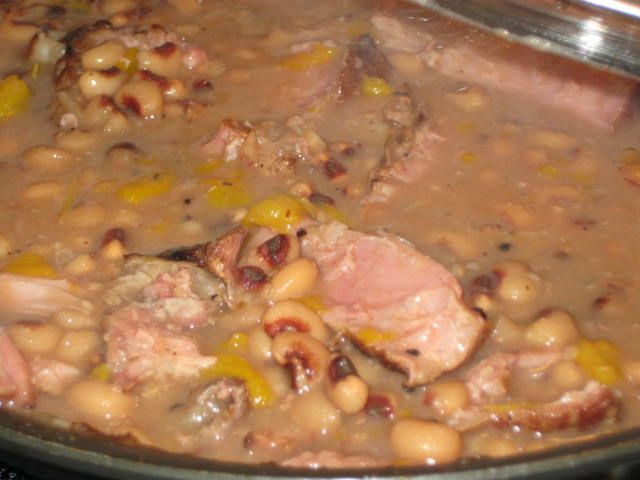 Once the ham hit's 125º and is time to glaze. Increase the heat to 300º and apply the glaze every 15-20 minutes until the ham reaches 145º and remove from oven or smoker.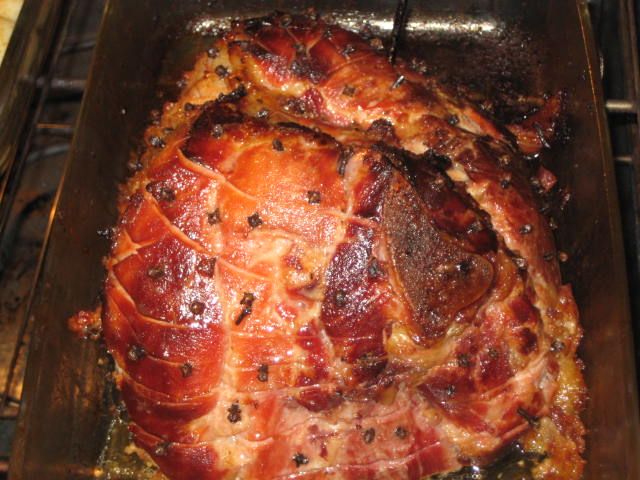 The ham is done and will rest for about 20 minutes before slicing.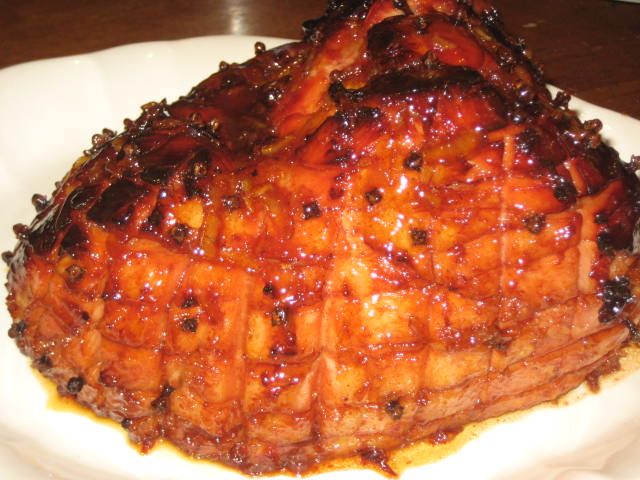 Dinner is ready!

Here's my plate. We also had roasted potatoes, not pictured and Parker House rolls.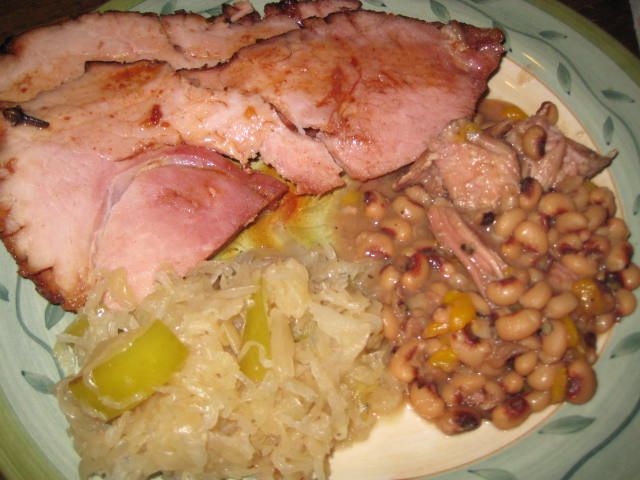 HAPPY NEW YEAR'S EVERYONE!!!