The Holidays are coming up on us FAST! Soon it'll be time to smoke the Holiday turkey. So here is my favorite way to smoke turkeys that come out very moist, tender and flavorful.
Here's what you will need -
5 - Gallon Food Safe Bucket (check your grocery stores deli or bakery, they will give them to you free)
3 Gallons - Cold Water
3 Cups - table salt
2 Cups - White Sugar
Optional Herbs can include sage, thyme, rosemary, etc.
1 - 12-15lb Fresh Turkey
(Not a Butterball or self basting turkey or any turkey that contains a broth solution, this will counteract the brine effect and you'll basically be soaking your turkey, vs. brining)
Preparing the brine -
Combine water, salt, sugar and herbs (if you choose to use them) into bucket or other food safe container and mix thoroughly until salt and sugar are completely dissolved.
Place the turkey into the brine breast side down and make sure the whole turkey is completely submerged and refrigerate 8-12 hours or overnight.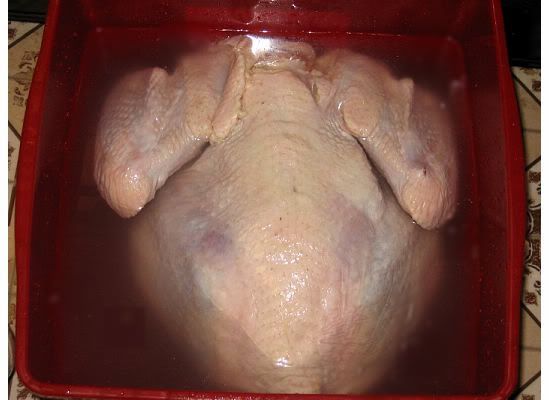 Load up your smoker or grill to cook in the 245º-260º range until the breast reaches an internal temperature of 160º and the thighs 170º. Estimate between 20-25 minutes per lb for whole turkeys, depending on your smoker or grill, your timing may vary. I use 2-3 pieces of hickory, apple or cherry wood, so use the wood you like. I also sometimes like to coat the turkey in coarse black pepper, it adds a little color and spice to the finished bird. This is optional.
When the turkey has reached proper finished temps as stated above, let it rest a minimum of 30 minutes or up to 1 hour loosley tented with aluminum foil. You do not want to cut into the turkey while it's hot, that's the fastest way to dry out your bird.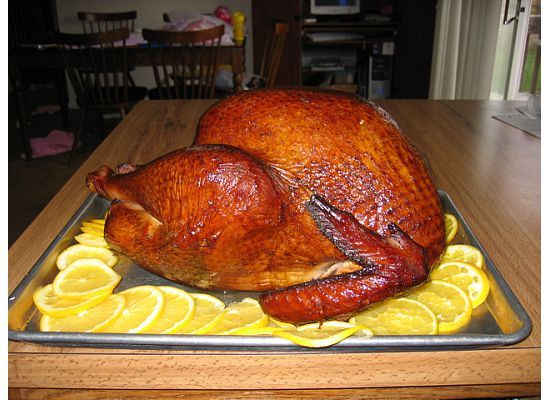 When you're ready to carve your bird, I like to separate the whole bird first. Then remove each side of the breast and then slice the breast meat, then slice the thigh meat and server the legs and wings whole and part of the presentation.
Or you can serve the breast meat and legs together and the thigh and wings separately.