One of my favorite BBQ sauces in the world is
Reverend Marvins Gourmet BBQ Sauce
made out of Florence South Carolina. Not only is the sauce extremely good, so are the people that make it. I am privileged to personally know Woody Lynch and his family who are some of the nicest people you will ever meet.
The sauce is a Mustard based BBQ sauce typical of the SC region. It has the perfect blend of vinegar and peppers that make it good on anything. My good friend Jim 'Captain' Morgan from Myrtle Beach, SC, even says it's good on monkey.......I'll take his word for it!
The sauce comes in two versions, Hot which is my favorite, but is not overwhelmingly hot and an Original. Both are equally good and extremely universal. Great on their own but equally great with something else added as you will see in the following recipe. But to give you an idea of things you can use this sauce for when not using it on it's own, here are a couple ideas. Mix Reverend Marvins with equal part mayonnaise for a nice tangy sandwich spread, mix it in your meatloaf recipe, mix equal parts Rev's, ketchup and brown sugar for a fantastic meatloaf glaze, equal parts Rev's, brown sugar and honey for a ham glaze, the list is endless and most of all the sauce it the best on pulled pork, brisket, pork chops......well you get the picture, I LOVE THE STUFF!
Okay, one last story and then onto the chicken leg cook. I was at a cooking competition in Myrtle Beach with Woody, and two other good friends, Captain Morgan and Chris 'Finney' Finney and we had turned in all of our meats and were sitting around. Captain Morgan and I had been drinking beer since around 7am and I was getting HUNGRY. Only thing we had was Tostito chips and Reverend Marvins......so I poured a little Rev's into a plastic cup and began dipping the chips in it and continued to refill the cup until the bottle was empty....yeah IT'S THAT GOOD!
Enough reminiscing and now, onto the cook
Started out with a family pack of chicken legs to snack on during the Sunday football games. Wet down with a little Zesty Italian Dressing and a liberal dosing of Wolfe Rub Citrus.
Started out cooking indirect in the 350º range.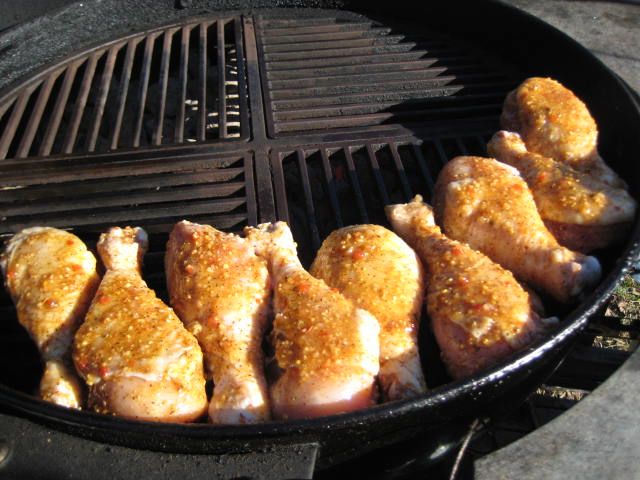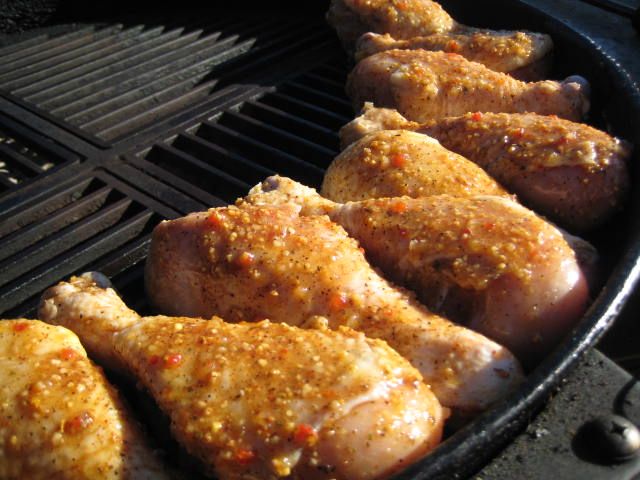 While the legs were cooking, I went inside to make the glaze. Started out with 1 cup of honey, 1 cup of brown sugar and 2 cups of Reverend Marvins Original. (you can get it in smaller bottles, but we use alot of it, so we get it by the gallon)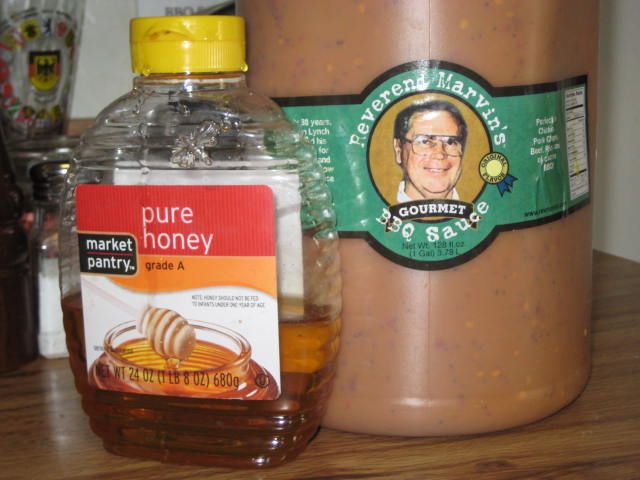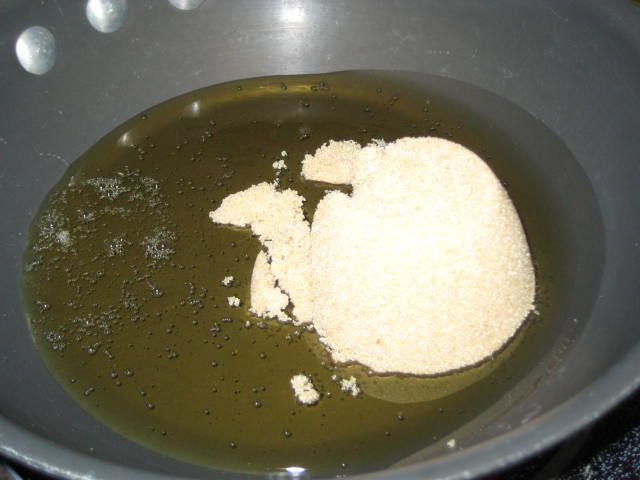 .

Brought to a boil for about 5 minutes to slightly thicken.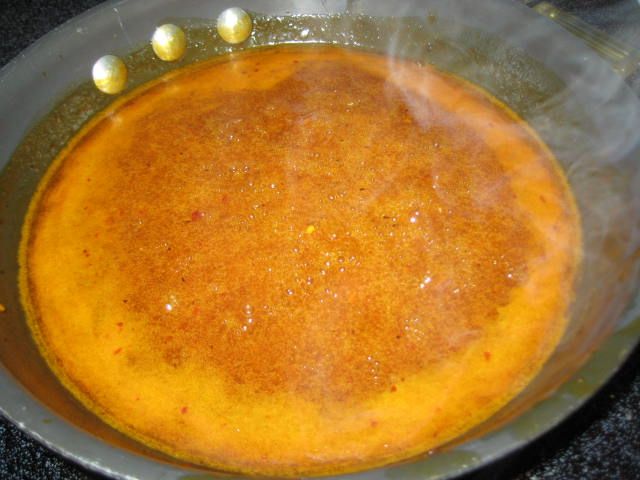 Tossed the chicken over direct heat just to get a little more color and texture on the skin.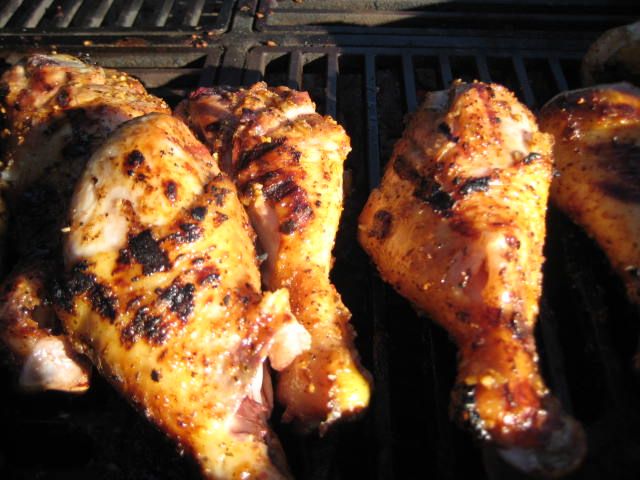 Then began dipping the chicken into the glaze every 10 minutes to build up layers of flavor.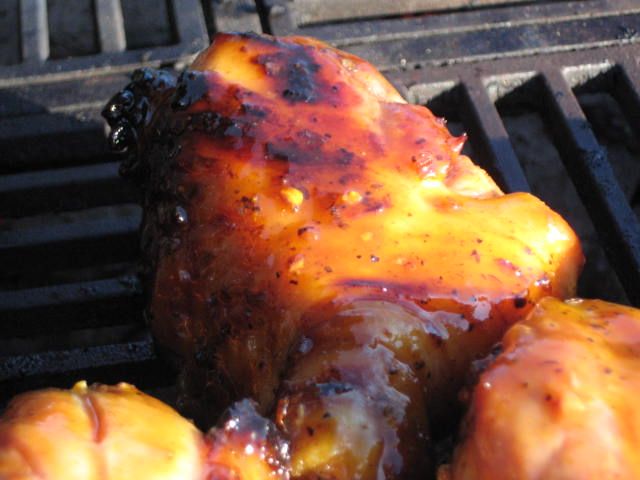 Repeated this process about every 10 minutes until the legs were done.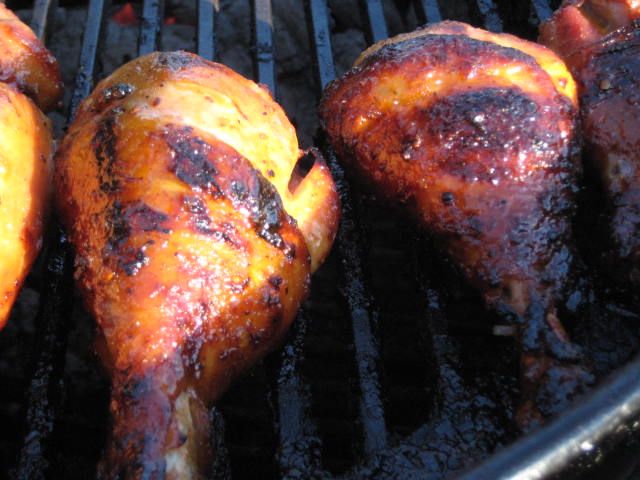 Time to snack!